Women Winning
The women of Raipher, P.C., are joining the efforts of Dress for Success and the Professional Women's Chamber by donating their gently-used professional women's clothing to women right here in Western Mass! Dressing professionally is more than just putting on a blazer, it is about feeling confident and prepared to take on the daily challenges of being a working woman. You can help other women dress the part and feel confident.
If you're thinking, "Does anyone really want to wear my old clothes?" or, "If I don't wear them anymore, who will?" I urge you to think again. There could be a woman out there who is one solid outfit away from her dream job or one thrifty-shopping trip away from bringing home all the confidence she needs to get her career to the next level. Your old jacket that doesn't fit could be the very confidence booster she needs right now.
If you're still not convinced to clean out your closet this week, let me tell you first-hand how a second-chance outfit could benefit your fellow females.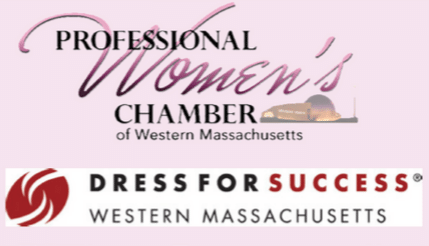 Dress for Success Boosts Confidence
Let's face it, figuring out the proper attire for work can be a challenge for top CEOs, let alone women just starting their careers. When looking and feeling the part seems to be half the battle of developing a successful career, we could all use a little help. Especially those of us in the early stages of our career or returning to professional life after some time away.
That is the position I found myself in when I landed my first "big" internship in grad school five years ago and first discovered Dress for Success, the ladies' version of Suit Up Springfield. The internship was "big" in that it was somewhat prestigious, working in a Boston courthouse directly for a judge. However, the full-time internship was not paid. After the euphoria of landing the position wore off, I was left wondering, How am I going to pull together five professional outfits a week without taking out another loan? and When was I going to find time to go shopping?
Of course, my mother had the answers. Lucky for me, she happened to notice an ad in the newspaper for a pop-up tag sale specializing in gently-used professional women's clothing happening right here in Springfield, MA. That was my first experience with Dress for Success and it was certainly a success for me. I left the tag sale with three gently-used suits that I felt comfortable and confident in.

How Can You Help?
When I learned that my new colleague and friend, Attorney Taylor LaVallee, is partnering with Dress for Success through her work with the PWC, to hold a clothing drive for gently-used professional women's clothing, I was ecstatic. Five years after my successful shopping trip, I am thrilled by the opportunity to give some of the love back! I hope you can join us in donating clothes and confidence.
Dress for Success of Western Massachusetts, in partnership with the Professional Women's Chamber of Western Massachusetts is holding a Clothing Donation Drive on Friday, October 18, 2019. Please drop off clothes to 265 State St. Springfield, MA or contact Molly Shea at mes@raipher.com to arrange to have your clothing donation picked up.
Not ready to part with any clothing items? Please consider donating your time as a volunteer or making a monetary contribution to Dress for Success. For more information on how you can help visit https://westernmass.dressforsuccess.org/get-involved/donate/.